New books this month
Brand new, exciting titles that you won't be able to resist.
Contains 30 exciting titles from the Usborne Reading Programme. With a selection of books from Usborne First Reading and Usborne Young Reading, there is plenty of choice for both children who are just learning to read independently and for young readers who need their confidence boosting. Titles In This Set: The Rabbit Tale The Wish Fish How Zebras Got Their Stripes The Little Giraffe The Dragon and the Phoenix The Chilly Little penguin Bears The Little Red Hen The Lion And The Mouse The Ant And The Grasshopper Chicken Licken The Scaredy Cat The King's Pudding The Goose That Laid The Golden Eggs The Musicians Of Bremen The Leopard And The Sky God The Hare And The Tortoise The Ugly Duckling The Town Mouse And The Country Mouse The Emperor And The Nightingale Androcles & the Lion The Owl & the Pussycat Animal Legends Puss in Boots Stories of Magical Animals Billy Goats Gruff Stories of Ponies Stories of Unicorns Stories of Dragons Stories of Dinosaurs
30 beautifully illustrated paperbacks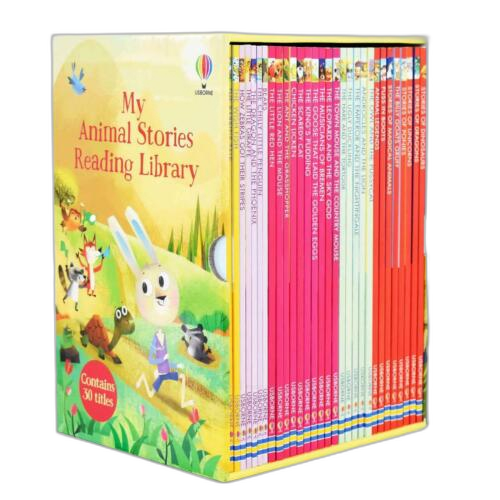 100 Things to Know about
Each book in this best-selling, award-winning series presents 100 bite-sized topics, with bold, graphic illustrations and clear text. Perfect for dipping in and out of, and for sharing with family and friends.